DMT- breathing & soundbath
Laura Manca & Frank Klank
DMT Breathing Techniques and Singing Bowls
DMT (Dimethyltryptamine) is the molecule that is released by taking Ayahuasca.
DMT is also referred to as "the spirit molecule". It is a molecule that we produce naturally and that causes you to feel ok with what life is bringing you.
Large amounts of DMT release can cause a "meeting God" experience, where you are in tune with everything that is. Leaving you with an altered state of consciousness.

Chemical DMT is a drug, officially a hard drug.
But we can also release DMT naturally with breathing techniques.
You may see colors and geometric forms. And it creates an altered state of consciousness.
Singing Bowls
Singing bowls are also known as Tibetan bowls.
Each singing bowl has its own character, tone, and timbre.
When playing the bowls, long-lasting sounds are created, rich in overtone resonance with vibration patterns and specific beats. This has such a beneficial effect on the body that it relaxes the mind.
Everyone will experience the sounds in his or her own unique way.
So how rich can the combination of DMT breathwork and Singing Bowls be? Now you have the chance to experience it.
Tim guides you through the breathing techniques, Frank plays the singing bowls.
About Laura Manca
Laura is a specialist in DMT-breathwork and a certified yoga teacher and breath coach.
She uses and shares a holistic approach to well-being, honouring the beauty of progress as a very individual journey. In addition to breathwork and yoga, she is an entrepreneur and martial artist.
Thrive Yoga – IJburg
IJBurglaan 961
Amsterdam
WHAT TO BRING:
A water bottle, and anything you need to lay down in a comfortable way.
Yoga mats, bolsters and blankets are available
Contra indications
If you are pregnant or you suffer from epilepsy it's recommand not to join this workshop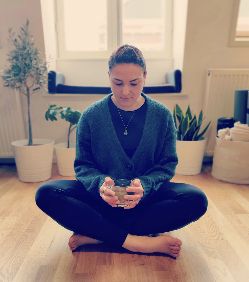 Je bent van harte welkom!
Heb je een vraag of suggestie? Wil je reserveren voor een evenement? Stuur me een mailtje! Wil je een concert of meditatie geven met behulp van mij en mijn klankschalen? Ik sta altijd open voor nieuwe ideeën en initiatieven, dus laat het me weten als je een mogelijkheid voelt om met mij samen te werken!