Singing bowl meditations & concerts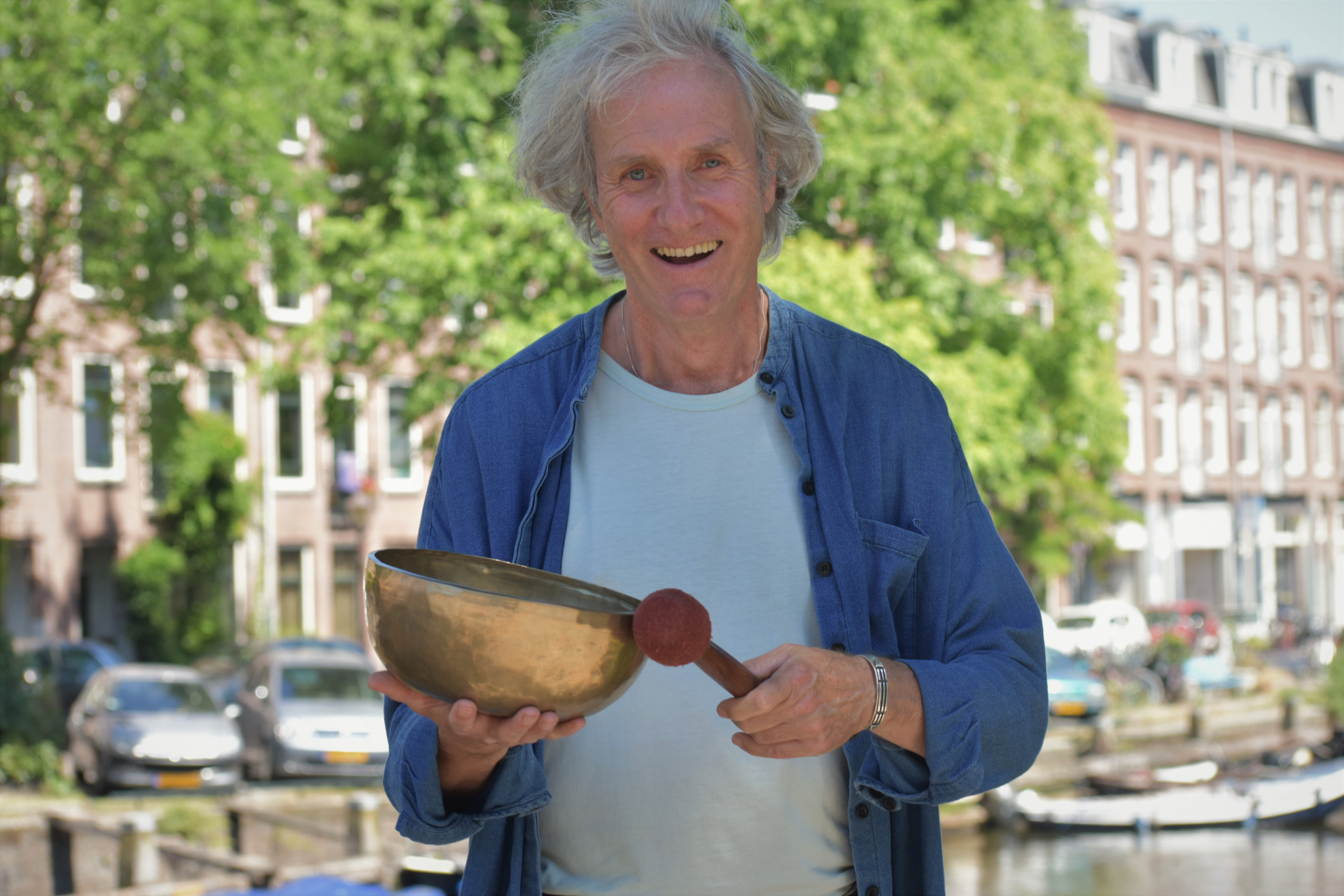 You can listen to my singing bowl meditations on my albums 'Sound and Silence' and 'I Motions' via Spotify.
To listen click on the album cover of either 'Sound and Silence' or 'I motions'. The 'Sound and Silence' album is also available on CD. Do you want to order this one? Send me a message!
"I have been following Frank for years in how he plays the singing bowls.
I was lucky enough to give a series of  music concerts with him.
Frank plays the singing bowls with a magic touch.

Not just some loose sounds, he connects them into a dialogue.
I'm sure you will like. "
"Friday evening 8 pm: "usually I drink a glass of wine on the terrace".
This time I went to a singing bowl meditation in center 'De Roos' , situated on a beautiful spot in the Vondelpark.
I lie on a lovely mattress under a warm blanket and I have no idea what to expect!
I am taken away by the warm sounds and I am completely relaxed and almost in a trance…it is raining outside, there is thunder, lightning and the sounds of the bowls provide a magical experience.
I can't wait for the next time… when can I join again Frank?"
"

Last year I moved away from Amsterdam. If you ask me 'what I miss the most?' I would say: my friends and Frank's monthly singing bowl meditations in Centrum De Roos.

You could see it as a monthly inspection of your body: the vibrations of the bowls penetrate deep into your system and you can expect beneficial effects from them.

Frank plays the singing bowls with a great sense of intuition. But don't be mistaken, underneath are years of experience and mastery!

Frank is the most relaxed host you can wish for. There is no need for anything, everything is allowed to be as it is. 

Where can you still find a place where you are lovingly received and nothing else is needed ?

"
"Working with Frank always brings the greatest joy. My heart overflows from the concerts in collaboration with him. We feel each other seamlessly and the singing bowls merg with my voice. The reactions of the audience is always heart warming and overwhelming. They have experienced singing bowls before, but never ever has it been like as with Frank."
Do you have a question or suggestion? Would you like to book for an event? Please send me an email!
Would you like to book me, to give a concert or a guided meditation with me and my singing bowls? I welcome new ideas and initiatives, so please let me know if you see an opportunity to work with me!